The Wakatu Fiji Communications Workshop was held at the Forestry Training Centre in Colo-i-Suva from the 28th – 29th of March. The workshop was an organized event spreading the message of the 'Wakatu campaign' under the umbrella of cChange, formally known as Seaweb.
'Wakatu' in i-Taukei language means taproot; the main root of a tree. Without a strongly established root system, a tree will wither and die. With this in mind, the Wakatu Fiji Campaign organizers say the message behind this term relates to the culture of Fiji and how strongly rooted it is in the vanua and without it; we lose our identity, our culture and our sense of pride.
The goal behind this meeting was to provide the necessary skills and tools to empower government and community partners to initiate community dialogues on better managing the land and forest. Three MES staff attended the training with two Yaubula committee members from Solevu village. According to Orisi Vukinavanua, Solevu Village Headman, "I really enjoyed the training. It is an eye opener and also great opportunity for me to learn on what challenges are being faced by other communities in Fiji and ways to face these challenges"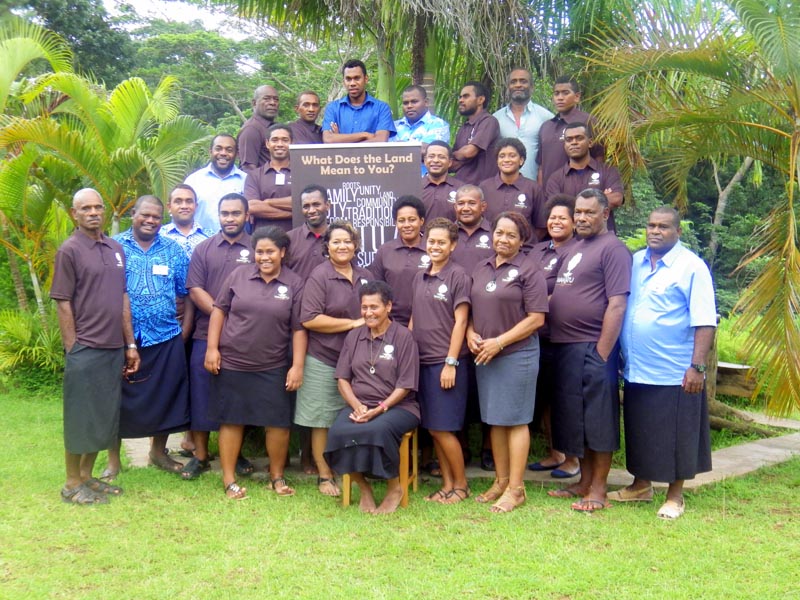 By the end of the workshop, participants were expected to understand the basics of good communications including public speaking, messaging and facilitation, be confident in using the Sustainable Land and Forest Management Flip Chart provided by the cChange team as a tool for community discussions and engagements.
A total of twenty two participants attended this workshop, 7 of which were community reps from Nadroga, Naitasiri, Ba, Rewa, Namosi and Malolo. Also present were government representatives that provided additional information while working through the outreach toolkit. "This was a great platform that allowed many of us to voice out issues from respective districts and consolidate ideas on how well they would be able to address it" said Lusiana Dalituicama, MES Climate Change officer. "With many of the government stakeholders present from both the Ministry of Forests as well as the Ministry of Agriculture, their expert advice assisted many of the community reps" she added.
Ratu Lepani Roko, FLMMA rep in Naitasiri expressed his thanks to the stakeholders from both the government ministries present and shared how he came to learn a lot on the sustainable use of land and proper forest management in the 2-day workshop. This he says has empowered him to relay the message to those back in his village.
Lepani Mudunaivalu, a 75-year-old farmer from the village of Navai in Ba and a Wakatu Champion shared in an inspirational video how he has always loved his land his entire life as it is where he gains his wealth and a source of life for him and his family. He says a big part of our Fijian culture is the traditional practice of 'solesolevaki' (working together), something that is rarely performed by our people today.
In the old days, people respected each other and worked together through helping a family build their home, planting or in the case of women, weave mats or go catch fish together. "Today, people just do things on their own. Before, people listened and respected each other and did solesolevaki from which they all prospered together. They were bonded by love. No finger pointing or tricking people," he said.
Lepani's message as well as many other Wakatu Champs have inspired many individuals through the Wakatu Campaign and have taught us to help revive the land and protect Fiji's way of life.
MES would like to thank the C Change team for invitation to the workshop which its materials will be used in our awareness programs in schools, communities and resorts.