Since the nesting seasons started from October to April, the Mamanuca Environment Society also started its biological survey on these magnificent creatures. The Mamanuca Group of islands is so fortunate to be one of the most visited by turtles. There are four out of the seven species of turtles found in Fiji. These are the Green turtle (Vonu Dina), Hawksbill turtle (Vonu Taku), Leatherback Turtle (Vonu Dakulaca) and the Loggerhead Turtle (Tu Vonu). The most sighted species of turtles in the Mamanuca's are the Hawksbill and the Green turtles. The other two are quite hard to find or see in the surrounding waters.
The latest islands that the group visited were Kadomo Island, Naivaka, on the island of Malolo, Mociu Island and Vomo Island. The groups usually stay on the surveyed site for three nights. On the island, a number of survey techniques and assessments are being carried out in order to gain as much information needed about the island and turtles.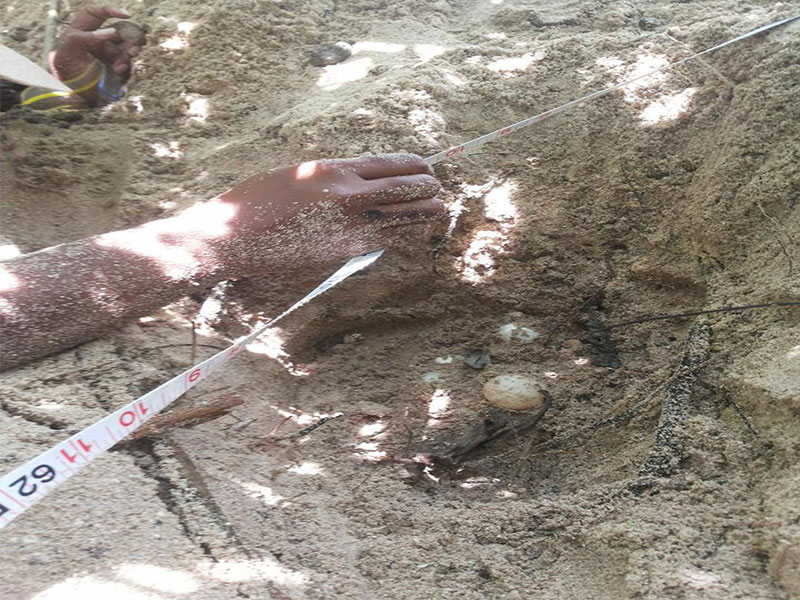 During the visit to Kadomo Island, two turtle nests were found. Crawl marks were also visible on the beach, which lead to the discovery of the nests. A contributing factor to successful nesting is when nesters (female turtle that lay eggs) are not disturbed. Nester turtles are easily spooked while trying to lay their eggs. Another sight that the team visited was the island of Mociu and Naivaka, which is located on the island of Malolo Levu. In these two sites there were no nests recorded, however during the sea grass survey, it was found that there were a lot of sea grass patches along the intertidal zone. While no turtle nests or nesters found during the period of survey it can be suggested that Mociu and Naivaka may still provide important feeding grounds. . The last island that was surveyed was Vomo Island. On this island, a nest was located. When the nest was excavated, 43 hatched eggs were counted and 32 unhatched eggs or pimped eggs. There were twelve hatchling found in the resorts pool, nine of which were dead, stuck in the filter net of the pool, while three were found swimming on the surface. After several minutes of searching for the nest, it was finally located with three more hatchling lying motionless near the nest. The hatchlings that were found to be weak due to dehydration were then transported to the rescue pond on Mana Island Resort to enable recovery.
With the nesting season coming to an end, so is the Turtle Biological Survey. MES would like to thank the support of the resorts, boat operators and communities. Lastly MEs would like to acknowledge the efforts and contributions of our volunteers during this hectic nesting season.