This month claims the end of yet another successful term for the environment school program facilitated by the Mamanuca Environment Society with its five maritime schools. The school program was set up with the objective of integrating the theories and knowledge of the environment with regards to conservative action and sustainable living amongst our children at the core by including it into their weekly curriculum.
At the end of the program all the schools have covered a total of 13 chapters covering areas of Ridge to Reef conservation, marine animal interactions, coral reefs, waste and water management and climate change. The students in the 5 maritime schools all completed the program and were assessed at the end of the program. The students were then presented with certificates for the completion of the program. This will be useful as future reference when students want to further their studies.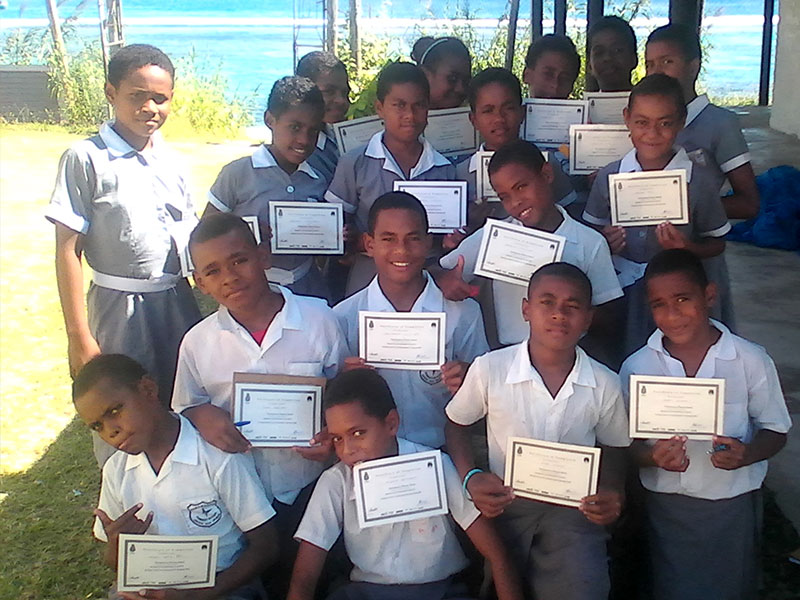 The school program is MES's trump card when advocating for environmental protection and conservation throughout the Mamanuca Region. MES is confident that by targeting the grass roots levels, these students have been inspired to become future environment stewards. MES would like to sincerely thank all our member resorts- Likuliku, Malolo and Castaway Island Resort, boat operators and South Sea Cruisers for supporting this program with provisions of free boat transfers to and from the schools and sponsorship of world marked events. A special mention goes towards management and staff of Waya Lailai Eco Haven Resort, non-members of MES nonetheless providing free transfers for staff to Namara Village School Without all your continued support the MES school program for maritime schools would not have been a successful one. Vinaka Vakalevu!
The MES team now looks forward to preparing for yet another challenging school term which begins in the second week of May. MES will be conducting the school program for six mainland schools. This will include T.A Learning Centre, Nabila Primary School, Momi District, Vuda District, and our newest addition to the school program Veiseisei Primary School and Tau Primary School. We look forward to inspiring yet another clutch of environment champions.