Mana Island Resort and Spa is literally nursing the house reef back to health in an attempt to restore this vital marine habitat. Coral restoration project is an on going activity for the resort. This year, the resort aims to plant 50 coral per week making up to 2400 corals by March 2018.
In a recent environment day at the resorts were attended by Mana Environment team, staff and representatives from the Ministry of Local Government, MES acknowledge the support towards the environment conservation. A briefing by MES Awareness officer, Jessie Matai highlighted that the resort operators like Mana Island Resort and Spa are taking a step forward in restoring and protecting natural ecosystems through their own marine and terrestrial conservation projects and directly supporting MES work in the region.
Coral planting was the main activity for the day with 36 coral cookies planted with the assistance of thirteen resort staff and two kids who were guests at the resort. The main objective is to restore the in-house reef at Mana Island Resort and promote sustainable tourism in the region.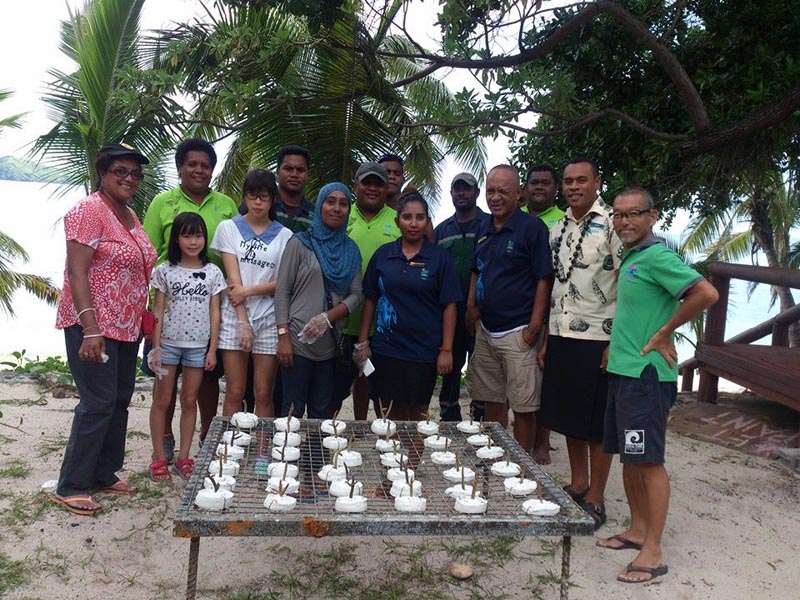 Also part of the coral planting group was, Ms Premila Chandra and Nafiza Ali from Nadi Town Council, who were really amazed with the initiative. "This is the first time to plant corals in my life and it's a privilege to be involved in the activity" stated Premila Chandra, Acting Senior Health Inspector, Nadi Town Council.
The coral table was transferred to the nearby reef which will be monitored on a weekly basis for six months then transferred to the area of the reef that need restoration. With the increase in global temperature, also warms up the water and also affects coral growth. Corals that are more tolerant to increase temperatures are targeted for this restoration project.
The program concluded with a Resort staff Talanoa session on Waste Management. The main objective is to formulate a solid waste Management plan for the resort and also promoting awareness on how to better manage solid waste on the island.
MES with the Mana Environment Team hopes to continue with the celebration of Monthly World Environment days in the years to come. Moreover, follow up on the Waste Management Plan with the help of Nadi Town Council in advising and implementing the plan with the Mana E-team.