Fiji is home to several endemic species of Iguanas found nowhere else on earth. On the 24th of February, forty eight Fiji Crested Iguanas that were bred in captivity were released into the wild on Monuriki Island. This marked one of the first successful programs around the Pacific where animals bred in captivity were reintroduced to wild life.
The project which lasted seven years of collaborative partnership with the National Trust of Fiji and mataqali Vunaivi of Yanuya Village who are owners of Monuriki Island came to final stage with the release of these precious populations. An observation made several years ago by Iguana specialists Dr Robert Fisher, found that iguanas on the island were on the verge of extinction. This was largely due to the increase number of rodents eating iguana eggs and hatchlings with wild goats competing for the same vegetation which they heavily depended on for survival. Crested Iguanas from Monuriki Island have distinctive genetic imprints that distinguish them from Iguanas found in other parts of the country.
Traditional ceremony was conducted upon the arrival of the Iguanas that morning brought in by representatives from Nature Fiji, National Trust of Fiji and San Diego Zoo Iguana specialist, Kula Eco Park, Nadroga Provincial Councils and Mamanuca Environment Society, who were bringing back home the endangered Fiji Crested Iguana to be released on famed Monuriki Island.
National Trust of Fiji (NTF) projects officer Jone Niukula mentioned in his presentation that "In 2010 they collaborated with Birdlife International in eradicating the rodents and goats. The same year they captured 20 iguanas from the Island which they took to Kula Wild Adventure Park to breed. In 2015, 32 iguanas produced in captivity were released into the wild. On Friday, 17 of the 20 iguanas that survived were returned to their original home and put back on the trees they were brought from along with 31 of their offspring. This approach was imminent to the survival of the rare Monuriki iguana population.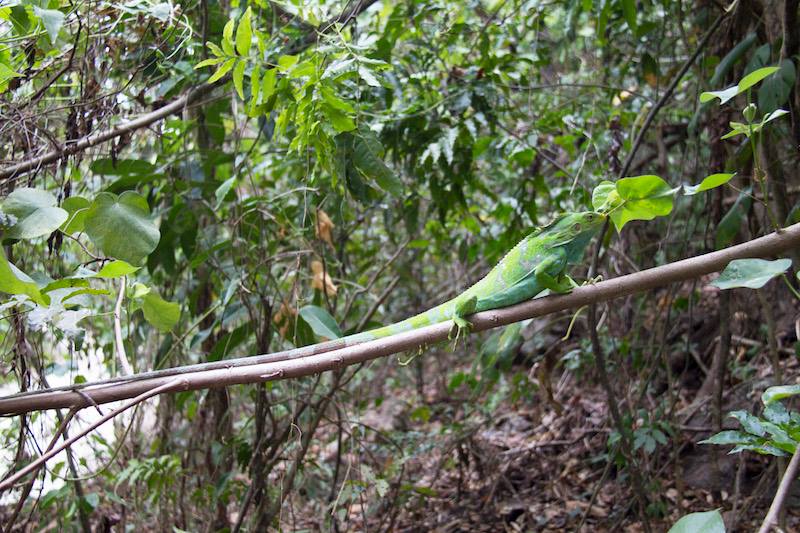 Three boats ferried the group across to Monuriki Island. The iguanas which were kept in aerated boxes were brought out in breeding pairs, which experts agree will enhance the mating and reproductive chances for these iguanas. The iguanas were tagged with a transmitter and chip to allow for easy capture and identification during further research. The iguanas were placed in pairs in carefully selected areas and favorable food trees such as the Beach Hibiscus/Vau and Barringtonia/Vutu tree.
NTF Executive board member Craig Powell said the villagers' commitment makes them forerunners, paving the way for other villages and communities to engage in conservation efforts. "I think it's wonderful that we can work together for an important cause and promote the sustainability of an important species" he said
This is a continuation of a journey that MES will ensure that the landowners in the Mamanuca Region contribute to the idea of protecting the stunning terrestrial environment of the Mamanuca Islands in Fiji.