The adverse impacts of climate change and climate variability requires the development of adaptation and mitigation strategies which will build resilience across the Mamanuca communities.
The Mamanuca Environment Society (MES) is working on Climate Change Project to revitalize local communities' engagement into conserving the beautiful Mamanuca Group of Islands from Ridge to Reef Areas.
As part of the Climate Change US Embassy funded project, one of the main outcomes of the project was to build up capacity for communities and formulate action plan to allow communities to implement their NRM Committee. And in a move to ensure participation of landowners, and communities, MES teamed up with officers from the Department of Forestry, Agriculture, Lands, Nadroga Provincial Office and Fiji Locally Managed Marine Areas.
"Community engagement is a must for conservation and Community input is important says FLMMA Western Division rep, Kini Ravonoloa". The benefits for putting up an action plan for communities will reduce adverse environmental impact and improved natural/ hazard risk management especially to future changes in climate, increased productivity and efficiency of natural resources also this will enhance communities to take ownership of these projects.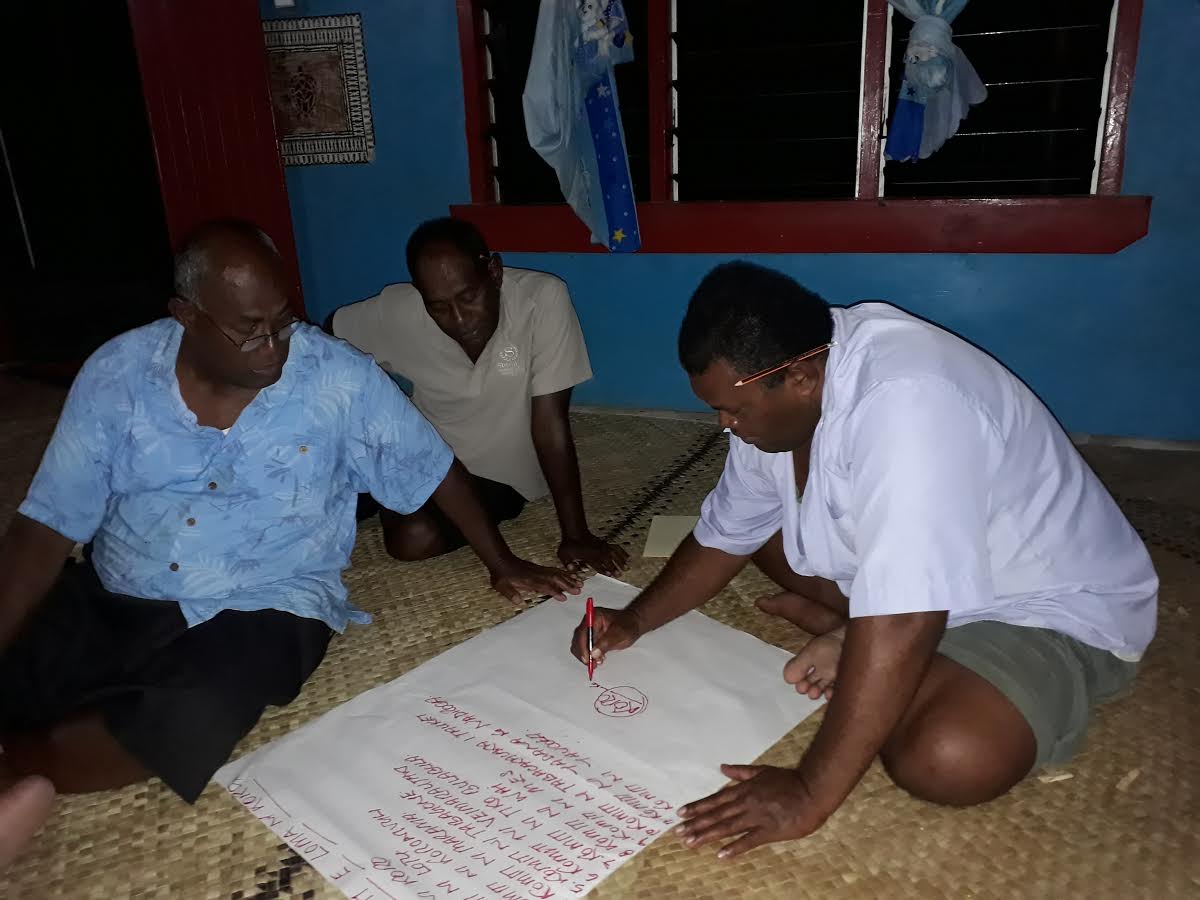 Beginning with awareness and later putting up action plans builds up community efforts to pinpoint issues on the adverse impacts of climate change from Ridge to reef areas. It was interesting to see the participants within the four communities came up with issues that they are facing nowadays and in what ways it can be addressed. In relation to the communities' perspectives, the IVA (Integrated Vulnerability Assessment) involves interviewing the villager's on the 1st community awareness was part of the program. The IVA results also interpreted the issues and the vulnerability of the natural resources within the island and how the community can incorporate principles of climate change adaptation, disaster risk management and sustainable development.
Also part of this awareness trip, the team start to plant native trees and fruiting trees within communities for reforestation programme. The NRM plan time frame is within 5 years where MES and other stakeholders will continue working with the communities in monitoring the work plans after the endorsement from the village council meeting