Mana Island Resort marked World Earth Day and World Arbor day on the 22nd and 24th of April respectively. MES staff travelled to the island to help facilitate the program with Mana guests and Mana E- team.
On Wednesday the 22nd of April, Mana marked World Earth Day with Mana SDA students and resort staff. The program began at 2pm. The program kicked off with a short briefing by MES Staff, Ilisapeci Sokidi on the importance of observing such a day with activities that will positively impact our planet Earth. Mr Seru Naitau then gave a short briefing on the activities for the day, which will involve Beach Clean up, Underwater Clean Up and Crown of thorns (COTS) Removal.
The three activities were co-ordinated and facilitated by three working groups. Aqua Trek and their staff conducted the COTS removal at Mana's North Beach collecting 56 COTS. The Beach Clean Up was conducted by Mana Staff and Mana SDA students along the South Beach to the Honeymoon Bures and along the North Beach, a total of 12 garbage bags were filled with plastics, papers, plastic bottles and old sacks. The underwater clean up was conducted by Sea Fiji, 4 staff, aided with a snorkel gear picked up rubbish from under the jetty snorkelling along the South side of the island towards the honeymoon bures.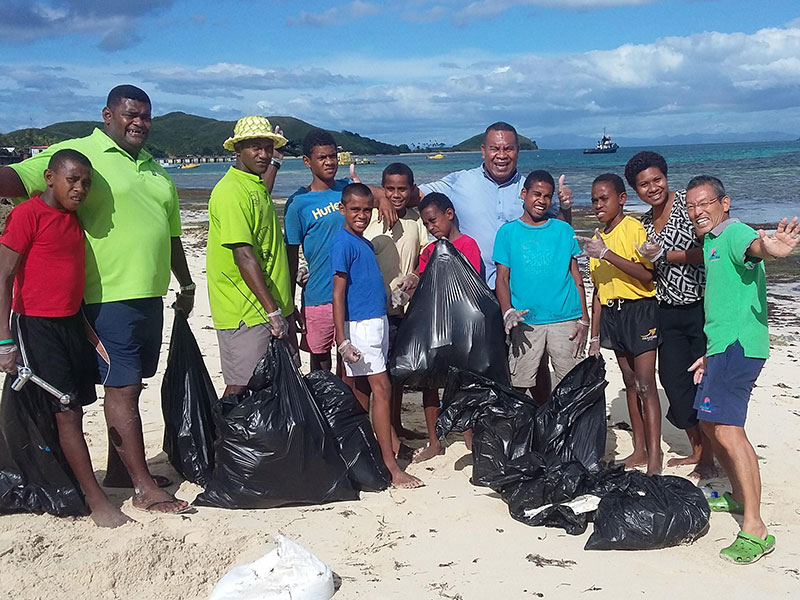 " A lot of rubbish were collected from the north beach since it's not being used often, rubbish have been left to pile up, since no one goes to clean it" said Jiutasa Kalau of Mana Island Resort. All activities were completed by 3:45pm. The twelve Mana SDA students, seven Mana Island Resort Staff, four Aqua Trek staff and four sea Fiji staff were then treated to light refreshment provided by the resort. On Friday the 24th of April, Arbor Day was marked by Mana Island Resort. The program stared at 2pm with a short briefing by Waseroma Kalouniviti, MES attache', highlighting the global importance of Arbor Day, and how one one day set aside to raise awareness on the importance of trees and the role they play in our environment.
Seru Naitau of Mana Island Resort then gave briefing on the activity for the day. The coastal tree planting activity was carried out at the North beach. Along bure's 201 to 520 34 trees were planted to mark Arbor Day, trees planted were mostly coconut (Cocos nucifera) and the bush half flower Scaevola taccada. At the completion of the tree planting the participants were requested to regroup at the Banyan tree decking where certificates were presented to the twelve Mana SDA students, four teachers and eight Mana staff for participating in the event and a vote of thanks from Seru Naitau. The Arbor Day ended with light refreshments again provided by Mana Island Resort.