The Yaubula Management Support Team [YMST] is a community-based organization chosen from within the village community with respective stakeholders to help manage, protect and ensure a sustainable development of the I Taukei resources. Relaying plans from the Natural Resources Management Plan [NRM] being discussed with the communities, the team will review these plans and develop traditional knowledge and skills to monitor and gauge effective management actions.
MES visited the village of Solevu on the 21st of March which turned out to be a huge success as the Yaubula committee was voted from the village meetings and it was endorsed by the Conservation Officer of Nadroga/Navosa Provincial council, Lui Manuel and also FLMMA's western engagement Officer, Kini Ravonoloa. With this endorsement, YMST awareness program was also held for the committees to be aware on the structure and procedure to follow and also the roles that YMST hold or is engaged in.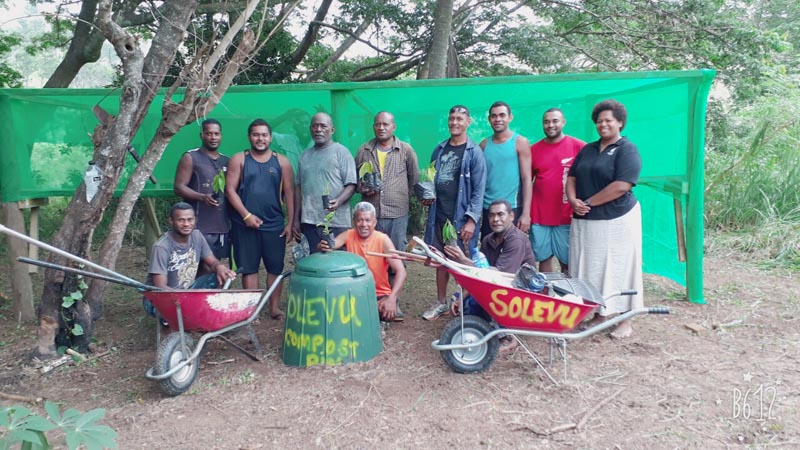 "As a part of this "team", it really inspired me to look after our natural resources because our islands are slowly changing. It is best that we also involve Youths more in reforestation techniques, so they are more aware on the importance of our native dry forests and mostly our Itaukei resources", says Orisi Vukinavanua, Solevu Village Headman.
"Our main goal of the plan being implemented is to plant more trees. We should work together to recover our bared hills with native dry forests and bring back what was lost", a statement raised by Jonetani Vamalua during the meeting.
On the 22nd of March, the village of Solevu successfully established a shade house to help in nursing of small plants and transplanting it to reforested areas. It was a pleasant sight to view elders working hand in hand to revive their natural resources. The shade house was finished with a touch of a few fruiting trees placed in the nursery to start off an effective journey of reforestation.
MES has yet to visit the remaining 3 villages namely Tavua, Yaro and Yanuya to formally endorse the chosen YMST committee and also begin on constructing the villager's own shade house. With this being implemented, the MES team will visit the village or community every fortnight to monitor the plants that have been reforested.
MES hopes that the communities' will continue to protect their Itaukei resources to help revive its natural beauty and biodiversity for the benefit of the village and for the future. MES team is indebt grateful and would to thank the Vanua Lawa, the Turaga Tui Lawa, Ratu Sevanaia Vatunitu for supporting the conservation initiative in the region. Also we would like to thank all our partners FLAMMA, Nadroga Navosa Provincial office, Ministry of Forest, Ministry of Agriculture, and Lands Department for all your support towards this conservation community based project.