The Fiji crested iguana (Brachyllophus Vitiensis) was feared extinct on Malolo until in January 2011, the first iguana was found on Likuliku Lagoon Resort. Ever since its reappearance both Likuliku and Malolo Island Resort staff have been discovering individual crested iguanas over the years among the native vegetation around the resorts. Earlier in the month, Dr Robert Fisher from U.S. Geological Survey, San Diego visited Likuliku Lagoon Resort to conduct biological assessment of the newly found Fiji Crested Iguanas now named Tavarua and Yadua. " It was a great learning experience working with Iguana experts with Mr Steve Anstey, observing all the assessment made with the very minute details of the iguana such as the number of crest being counted and recorded " said Marica Vakacola, MES Project Manager. Dr Robert and I conducted a night patrol around the low dry forest area and spotted a crested iguana high on a Tahitian Chestnut tree locally called Ivi ,added Mrs Vakacola.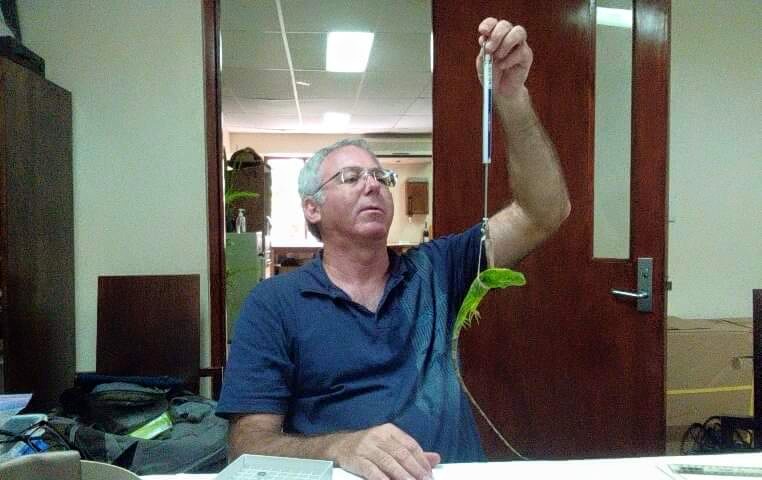 According to Steve Anstey, Ahura Group Resorts General Manager, that there is a great need to restore this critically endangered species by protecting its natural habitat. Mamanuca Environment Society with Forestry Department have been holding awareness workshop in Yaro and Solevu village on Malolo Levu Island highlighting the importance of the dry forest and its contribution to the survival of the Fiji crested iguanas. Endangered species Protection is also part of MES Environment Education program with the island Schools. "Fiji crested Iguanas are protected under the Endangered and Protected Species Act and should be of significant importance and poor land management such as bush fire is a major contribution in reducing their survival rate" said Mrs Vakacola. We hope to expand our Crested Iguana protection programme to all our village communities through our Environment Education program and work more closely with local and international conservation organisation such as the Taronga Conservation Society and Disney Foundation in this program, added Mrs Vakacola
The Society is working closely with the island schools in establishing a nursery where Iguana Edible plant species with dry forest seedlings will be nurtured and later transplanted around the dry forest area. The list of edible plant species shared by Steve Anstey is used as our guideline and also forwarded to Forestry department for seed and sampling collection. Ahura resorts continue with their environment programme focusing mainly on the replanting of dry forest species and are preparing a bigger nursery for the edible plant species.